Your Impact
YOU can Make a Difference in the Lives of Families in Jamaica
Take a look at the stories below and see what $20.00 can do for a family - your gift is important to them and will be used to help families in many ways.
---
The gift that continues to grow!

Because of donors like you, Annie Browns family received a flock of chicks (8 dozen) from The Jamaica Hope Foundation in 2014. The gift of a flock of chickens has changed their lives forever. As the flock continues to grow, they are able to feed their family and to share with other families who are also in need.

Giving this flock of chickens is like giving someone a small business while providing them with a more sustainable livelihood. Becasue of this gift, the family now has better access to medicine, schooling, food and clothing! All of this for a mere $20.00!

These families who receive your gift become donors as they share their good fortune with other families in their communities. Your giving has allowed them to help others as you have helped them!

For a gift of $20., you can make a difference to another family just like the Browns.

Would you like to give the gift of a flock of chicks today?

Click the button above to donate online or see other ways to donate below.

Donate by Phone

Call 1.844 755-HOPE (4673)

Donate by Mail

Simply click here to print out your form, follow instructions and mail it with your check or credit card information to:

Jamaica Hope Foundation, Inc. PO Box 16284, Charlotte, NC 28297-6284.
---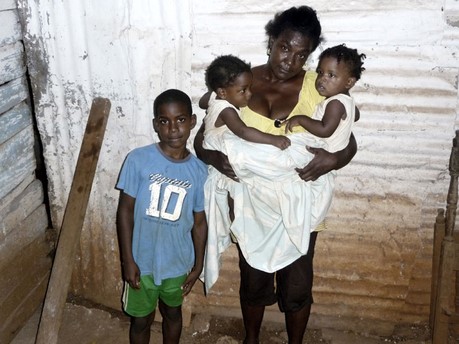 For as little as $20 per month, you can help improve living conditions and provide groceries, clothing and shoes, and school registration fees for families in need. 
MEET "KAREN" - Karen and her three children live in a one-room zinc shack with no running water. She told Jamaican news reporters that in order to survive she has to sell fruits on weekends. She said, "Me go Meadowrest go get water. Sometime a di bullfrog water we get and when dem get water fi dem worker bathe we get some fi drink."
Her 11-year old son does not have shoes to attend school and of their shack she explained that, "The problem is with the zinc, when the sun hot yuh can't go and sleep cause in there is baking, we have to wait until evening and when rain fall we have to set bucket cause is bare water."
What is Karen's request? "I want to live somewhere comfortable and if people could even help me with some clothes for the children." 
Our ability to make a difference for Karen and her children, and thousands of families just like theirs, is made possible through the generous contributions of donors like you.
They walk side by side holding their children. Drained of joy because they cannot offer any hope to these little ones. Children are meant to play and have bodies full of life and promise. But they cannot see any promise. What promise lies in poverty and destitution? They offer love because that is all they have left to give their sons and daughters. Survival is at best their proximity...yet that too seems to slowly disappear.
---
Our second fundraiser was a huge success!
---
The Clarkes* live in a cardboard and wood home on the outskirts of an urban area.  The family of six was struggling to provide basic necessities with the father's earnings as a laborer. Their children, ages four through 11 have been unable to attend school regularly. 
Jamaica Hope Foundation met with the elder Clarke and determined how to help the family in both the short and long term.  We were able to clothe the family along with a new pair of shoes for each, provide several bags of groceries with non-perishable items, covered the school registration fees for the three oldest children, and gave them a goat and chickens.  The animals provide a regular source of nutrition and as the chickens multiplied, the family also has a source of protein.
Mother Clarke has been able to sell and trade eggs for other items the family needs and when the Clarke's learned of a neighbor's pregnancy, they were able to provide a gift of two chickens from their flock and bottles of goat's milk.
There are thousands of families like the Clarkes.  With every donation, we can improve the quality of their lives and provide a way for them to sustain, grow, and give. 
*Name changed
---
According to the Economic and Social Survey of Jamaica (2011):
One in every five children lives in poverty
Households in poverty have larger household sizes
The poor usually live in poor communities
They lack access to good-quality education and employment
They live in inferior-quality accommodations
Motivation to work is inhibited by poor wages and working conditions
Those who do work are often underemployed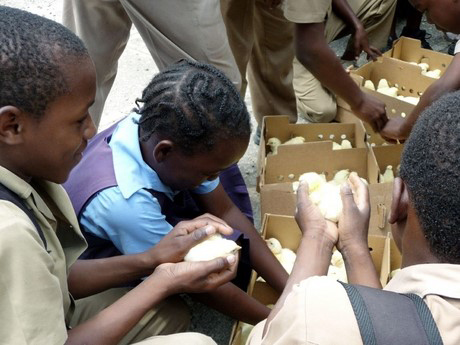 …social safety nets are being widened, but persons are rarely being lifted out
of poverty.
This is a clear case in Jamaica where despite a 75 per cent and a 130 per
cent increase in expenditure for the Programme of Advancement Through Health and Education (PATH) and the School Feeding Programme respectively, over the last three years, the
latest [Jamaica Survey of Living Conditions] shows that many more
Jamaicans are living below the poverty line.(Jamaica Observer, 2011)
Photo Credit: The Gleaner